1
The zoo, front gate
Posted by
AnIGma
, 17 July 2012 · 2,001 views
Maybe I should have written "the insane asylum, front gate". I keep a fair number of pets and I might as well introduce them before I go on to talk about the new rescue IG. Currently only one of my references stands between me and IGdom (IG owvnership). The rescue rep is waiting to hear from my last ref, but the other reviews from references were glowing, so far.
Now to my current pets. I have a female Chihuahua, Fifi. She's a feisty one, but nervous around strange people and dogs. I rescued her from a family that was trying to sell her on a site like Craigslist. They were trying to get rid of her because they didn't know how to housebreak her and were fed up. Of course they told me they were getting rid of her because they didn't "have time" for her with small children in the house. In the meantime they kept the other Chi they had. Anyway, I convinced them to give her to me and I now have her trained to pee pads and going outside. Fifi has a wonderful affectionate personality, and she sticks to me like glue. This is part of the reason I want to get another dog. IMO she needs canine company too, and she had it previously when living with the other chihuahua.
I also have three cats, Thunder, Lightning and Rex. Thunder is a big, wise looking grey swirl tabby. He weighs at least 15 lb. He loves dogs and used to "visit" my deceased Greyhound Sting every day, by rubbing against him and between his legs. Sting would sniff Thunder's butt by way of a handshake. Occasionally Sting would sleep with Thunder, here's a pic: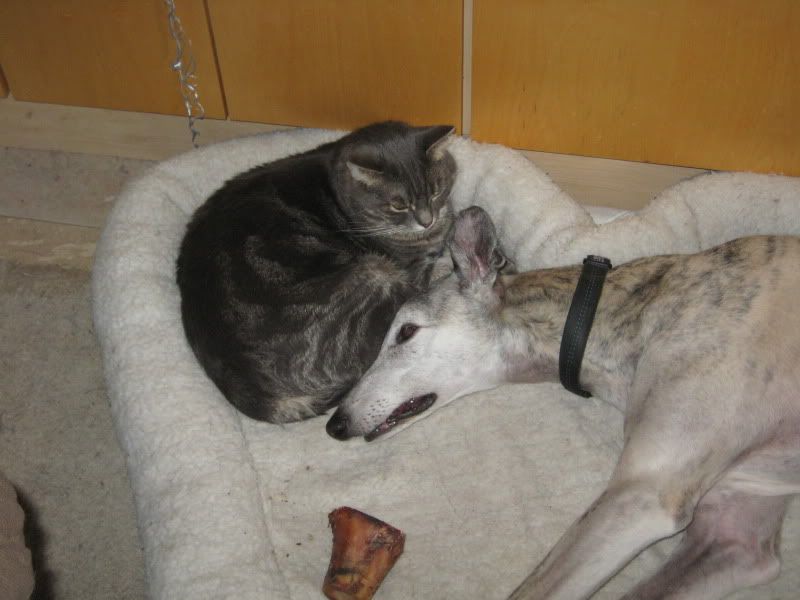 Lightning is pure black with white whiskers and a little triangular bib on her chest. She is very vocal and playful. Then there's Rex. He has a personality like an exploding cigar. He's a flamepoint Siamese with attitude. He bellows loudly when he wants attention or is bored and wants another cat to play with. However, Rex is also very affectionate and cute when he wants to be. He loves to initiate chase games with Fifi. Frequently the other cats join in. It will be interesting to see how an IG will fit into that mix!
The rest of the zoo consists of my ball python, 9 fish tanks (small betta tanks for the most part) and 4 tarantulas. They don't keep me as busy as you might think. The snake eats once every few weeks (frozen/thawed rats) and the spiders eat crickets once a week. The fish water needs changing about once a week and that's it.
Finally there's the new IG guy. I'm still not sure about his name, whether I will keep it - Gixxer. All I know about him so far is that he needs housebreaking work and he is timid around people, including people he lives with. The rep sent me pics and I know he's white with fawn patches. The rescue rep said he's only comfortable with her, not the other people in her house. I live alone (no more humans) so hopefully he will bond to me quickly. I have lots of experience housebreaking dogs including Fifi. I also housebroke and trained two retired racing greyhounds who didn't know what a hard floor was when I first got them.
For the timidness, I live in an apartment building and take the elevators. Fifi gets a lot of attention and "can I pet her?" in the elevators and halls when I take her out. It's funny, if she doesn't want to be petted she raises a paw and "pushes" their hand or face away! Anyway, I am guessing Gixxer will get similar attention when he comes here to live.