0
Let's start with Easter of '07
Posted by
Shaana
, 02 August 2007 · 958 views
FIN'S FOLLIES - Our First Blog Entry
HAPPY FREAKIN EASTER TO YOU TOO!
(oy .. what a morning!)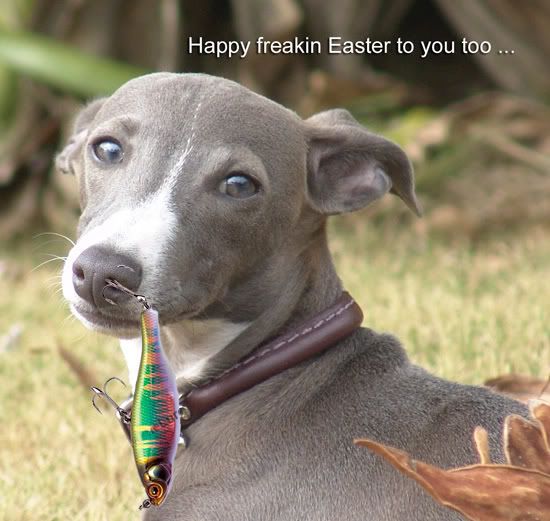 Yeah .. he's a PUNK alright .. I SHOULD get him a nose ring ..
Cause then ... I might be able to keep the little rabble rouser OUTTA TROUBLE!
THIS MOVE nearly gave ME and KEITH .. a heart attack!
Here's the SHORT synopsis - :rolleyes:LOL ...
1. Keith packs on Easter morning to go the the KEYS - fishing with Dad.
2. Shaana opens front and back doors to let nice cool breeze in the house.
3. Fin is running around in his lil' horsey blanket in and outside.
4. Keith has all gear stacked out front waiting on Dad and the boat.
5. Keith jumps in shower before Dad gets here.
6. Shaana hears blood curdling "puppy" scream from outside.
7. Shaana runs faster than a speeding bullet out front ..
8. Fin is jumping up and down doing the blood curdling puppy scream.
9. Shaana thinks Fin just got bit by a snake.
10. Shaana gets to screaming Fin and sees he found the fishing tackle.
11. Sadly Fin found the fishing rods, with smelly lures on the end..
12. Shaana sees Fin has a lure all the way through his nose!
13. Shaana knows that you cannot pull out a treble hook with barbs.
14. Shaana starts to scream louder than Fin to get Keith to come running.
15. Keith does not come. (Shaana contemplates divorce)
16. More screaming from me and Fin at the top of our lungs
17. Keith "thinks he hears something from the bathroom"
18. Keith turns off water to see if that's true.
19. Keith hears wife AND PUPPY giving off blood curdling screams
20. Keith, 6'6" of him, throws back the shower curtain and runs like hell!
21. Keith runs OUT FRONT OF THE HOUSE where me and the kid are ...
22.
KEITH ... IS NEKKID AS A JAYBIRD!
23. Keith has nothing on but SOAP.
24. Matter o' fact .. he brought that with him and threw it on the pavement.
25. Shaana is shaking.
26. Fin is shaking.
27. Keith is sure shaking, for TWO reasons now .. "Fin, and ..
He's nekkid
!"
28. Shaana then realizes husband is nekkid. Granted, that is usually not a bad thing.
29. Shaana yells at Keith to HELP! HELP! (Keith surveys situation)
30. Keith stands up (
butt nekkid
) and reaches into truck for nippers.
31. Keith cuts fishing line from the pole
32. I carry poor little puppy in house and sit at kitchen table.
33. Keith runs in (still dripping soap), and runs to garage for tool kit.
34. Shaana is desperately trying to hold puppy still so barbs don't get them
35. Keith comes back quickly - gets nippers, and cuts the barb free from puppy's nose!
36. No blood, no swelling, can't even see a hole? WHAT? How'd that happen?
37. Shaana, Fin, .. and Keith .. are now "spent hens".
38. Shaana and Fin go lay on couch and cuddle.
39. Fin MILKS IT for all he's worth .. puts his head around my neck.
40. Keith finishes his shower, gets dressed, takes deep breath, shakes head, pats heart,
and leaves for a week fo fishing in the keys.
(41. Father-in-law says: "You shoulda left him hooked up, he's perfect bait hooked up ready to troll!"
Shaana can't believe loving "Father-in-law" said that...!!
Note to self: ..
PUPPY PROOF LIFE
.. if that's possible ..
LOL
THE END.
I'm still exhausted from THAT adrenaline rush!