0
HAPPY BIRTHDAY FAITH!
Happy Birthday Faith!
Today is Faith's First Birthday - she is now a whole year old!
For a little pup that was paralized and given no chance of recovery at 8 weeks, just reaching her first birthday is an incredible accomplishment she never should have achieved. Reaching a year of age healthy, happy, and completly recovered with full mobility is far beyond my wildest dreams for this girl. When I first brought her home from the vet with her broken neck, as I held and cared for her poor broken and paralized body, I prayed that she would somehow accomplish the impossible and against all odds recover even enough to just be able to get around well enough to function happily as a "special-needs" dog. Even to hope for that was asking for the impossible... I never dared to dream that she would today be the happy full-of-life bundle-of-joy that blesses me every day I am graced with her presence!

This dog is an inspiration to me EVERY DAY.

For her to have accomplished all she did, no matter how frustrated I am about life at the moment, I don't really have much to complain about myslef! I am so blessed to be able to share my life with her.
Today's her day - she deserves it!

Off to have some fun, take some pix to share, and will post updates later!

PS - Faith received a really cool Birthday Gift from her "Aunt Linda" and her Florida pack of friends - Karma, Lexi, Deja, and Stella! THANKS LINDA!!!

Here is Faith in her new Yap-Wrap - a wonderful gift from Linda and her girls - taking a break from playing at the park this afternoon to pose pretty for a picture!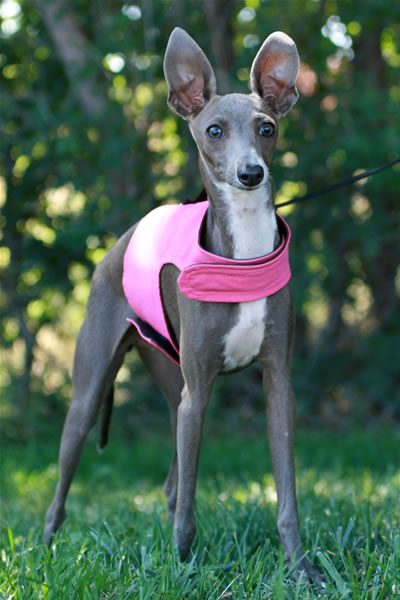 Isn't She Gorgeous???