0
Faith's 1 Year x-Ray Results!
Faith's 1 Year x-Ray Results!
Amazing Recovery from a Broken Neck!
We had follow up x-rays taken today - 1 year after Faith broke her neck.
The x-Rays are AMAZING!!!


Faith's original X-rays (taken November 11th, 2006 & shown again for comparison below) showed cervical vertebral fractures between C1 and C2 in addition to a fractured dens, resulting in the displacement of a number of vertebrae. The break, as shown in the original x-ray caused her spinal cord to stretch and bend around the ms-aligned vertebrae, resulting in swelling, torn muscles, and paralysis.

Her x-rays today, taken one year following her original break, show an incredible and amazing recovery! Even after watching her progress in leaps and bounds through her recovery and since, I was still floored by what the x-rays showed.



FAITH'S BROKEN NECK HAS STRAIGHTENED AND COMPLETLY HEALED!

SHE IS 100%, WORRY FREE, AND IN NO DANGER OF FUTURE DISPLACEMENT OR DISLOCATION, OR ANY CHANCE OF HER OLD INJURY AFFECTING HER SPINAL COLUM AND MOBILITY AGAIN!

Even our vet was surprised by the x-ray results. He credits the early stabilization and care, combined with the fact that she was so young and still growing when the break happened, as big factors in her miraculous recovery. She was young enough to grow thru the break, and for her neck bones to heal as they were stabilized and pulled back together as the swelling was brought down. Long term, she retains a slight bit of un-coordination, (nothing that would be noticed without knowing what to look for), and a slight bulge on either side of her neck at the point of the break as a result of the massive amount of tearing and muscle damage that had to happen for the severe displacement shown in the original x-ray. Her gait seems to be a little high in the front, but as there was no comparison before the break (due to her young age) there is no way to know if it is possibly just her natural gait or somewhat affected by the injury. Bottom line is that Faith's neck has fully healed, she is doing great, has nothing to worry about in the area of future issues due to the original break, and things couldn't be better!

Here is Faith's original x-ray, taken a year ago immediantly following her break: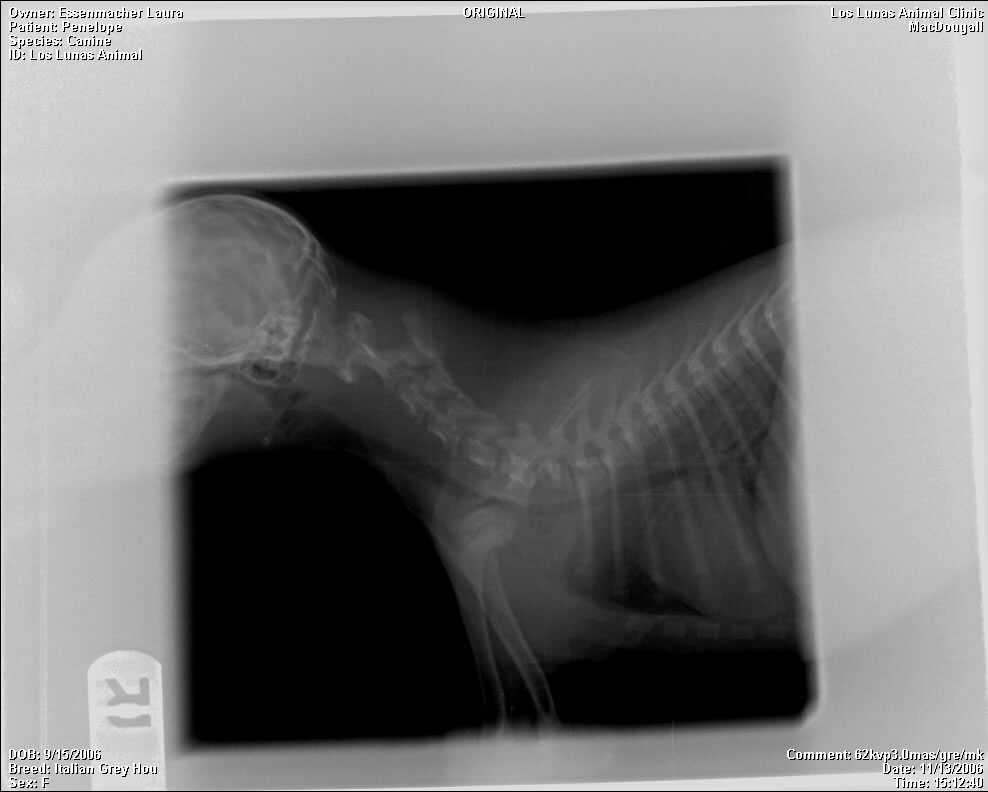 Here is Faith's new x-Ray, taken today, one year from her break.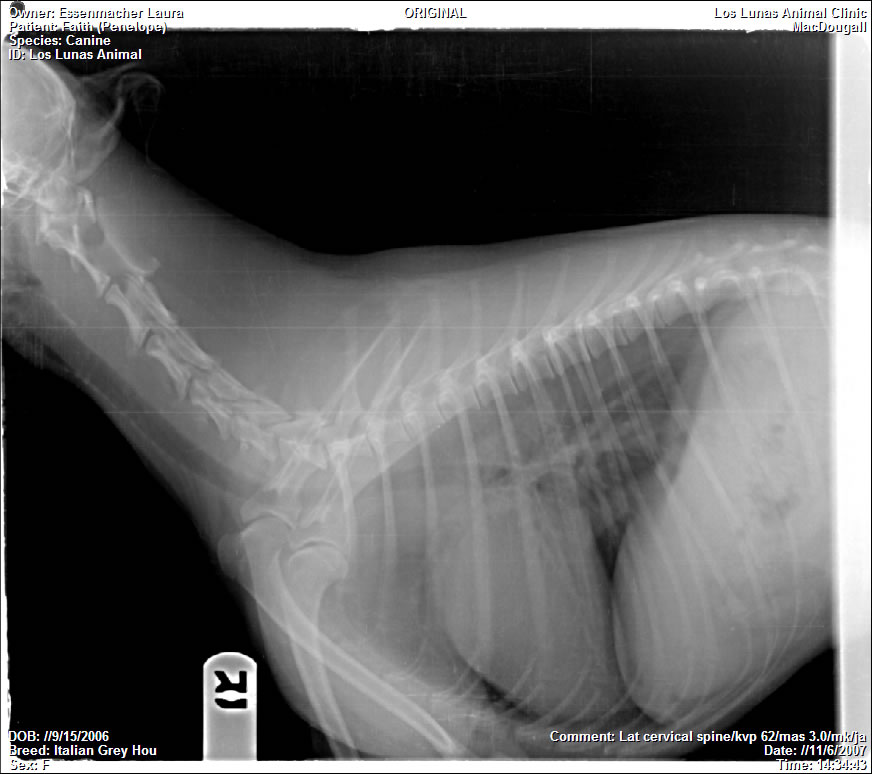 Here is another of Faith's new x-Rays, taken today, one year from her break.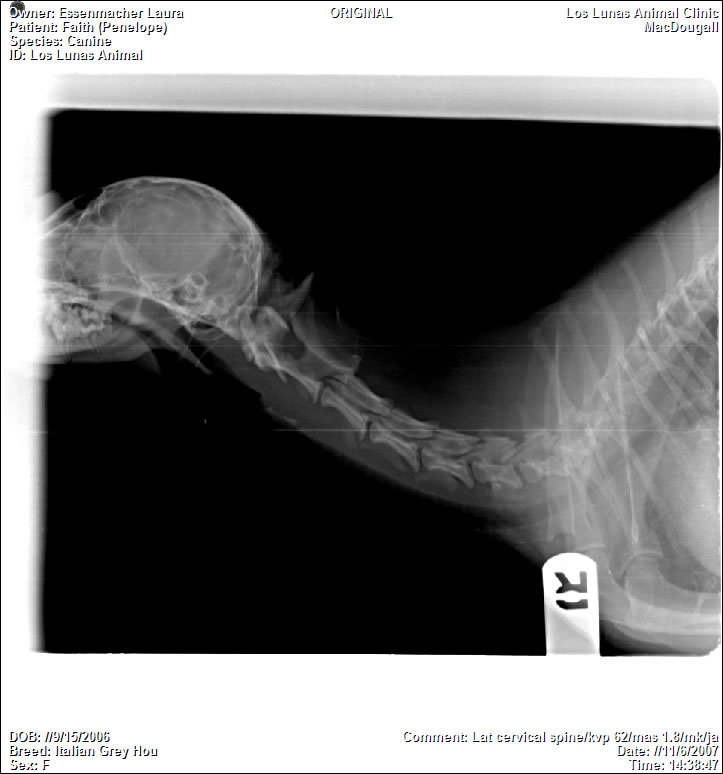 I'm so happy today
No more always being overly protective and careful! No more holding back and coddling when she wants to play tug (one of her all time favorite games)! Now I get to go "collar shopping" as she doesn't have to wear a harness all the time for fear of re-injuring anything!

Below is a copy of an 11x14 framed print I took to my vet today. My gorgeous and amazing girl (can you tell I'm just a wee bit biased?) now holds a place in his office on his "wall of fame"! Already she has been an inspiration to other clients who have had a pet with a serious injury!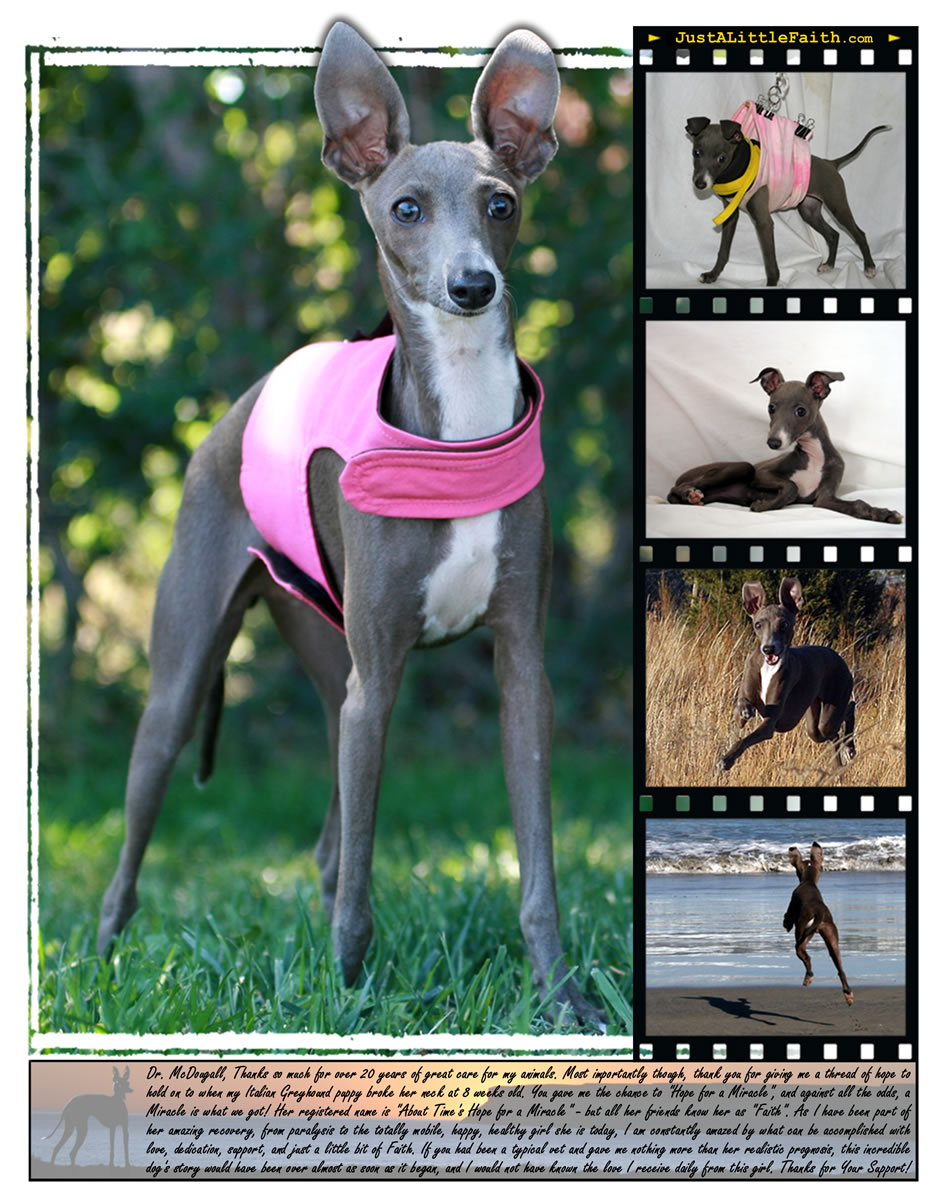 Have I mentioned I'm walking on air today!???